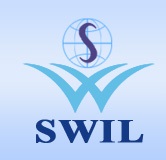 How to Compare Purchase Order with Purchase Invoice

The key difference between a
Purchase Order
and an
invoice
is that a
Purchase Order
is sent from a purchaser to a vendor to place an
Order
while an
Invoice
is sent from a vendor to a purchaser to request payment for an
Order
.
In this article, we have explained to you our new feature
"Compare (Order and Invoice)"
. Through this option, we can able to check & compare our Purchases against our Purchase Order.
This option is very useful especially for Wholesalers/Distributors who using our
Unisolve
software. In this new patch, you can check your all Purchases as per the given Orders to your Supplier. Through this option, you can check & compare Product-wise Ordered Qty. with Purchased Qty. This option is very useful due to sometimes we have ordered some qty. & received some different qty., in this option, you can track your Ordered Qty.
When you make a Purchase Invoice that time if your Purchase Order already pending of particular supplier then software shows an Alert message
"Order is pending Use F3 to clear order"
when you press the F3 window then software open your pending Purchase Order Product list, if you want covert the same then please enter the particular product & enter Batch No. other details. Screen as per below: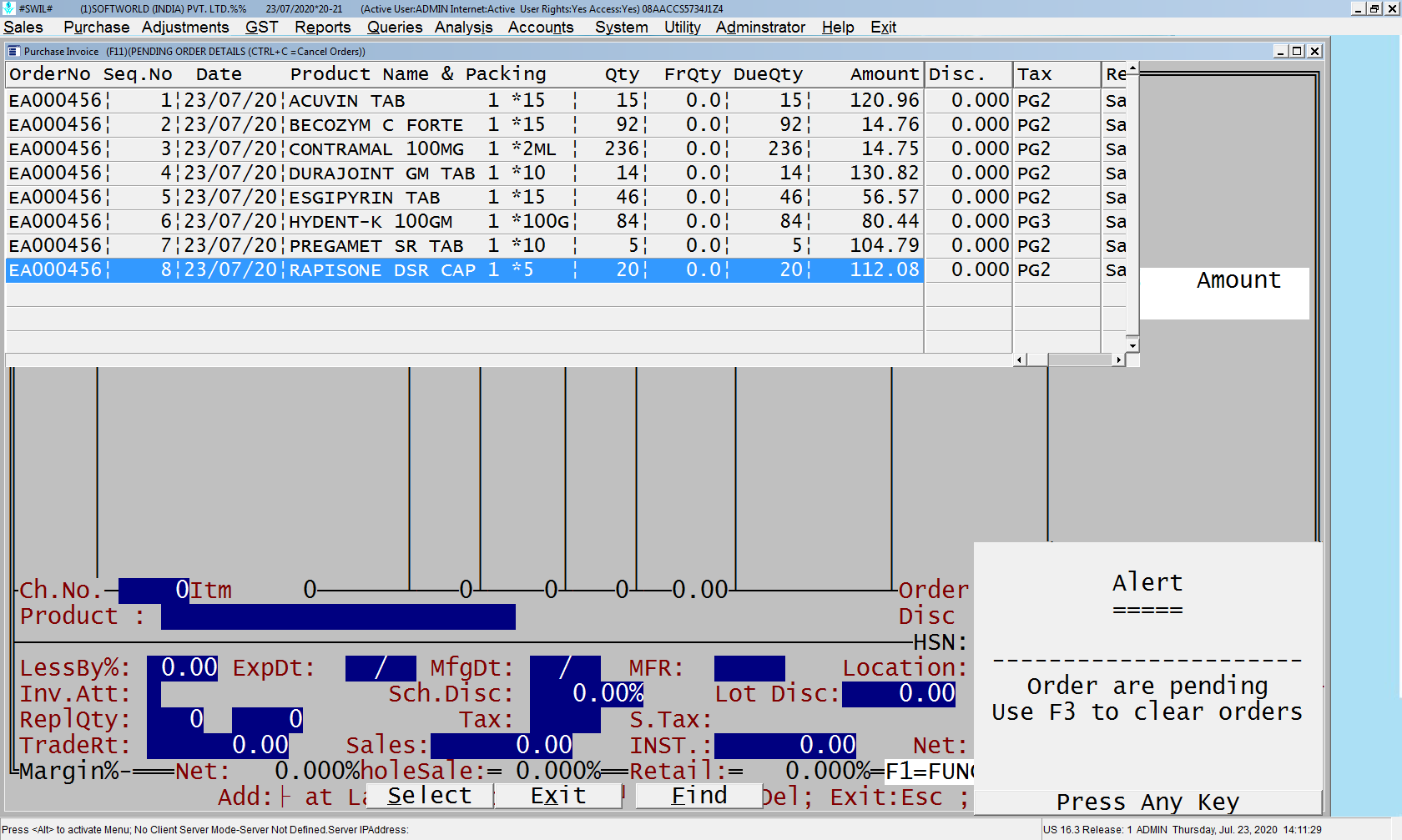 Compare (Order and Invoice):
In a new patch of 16.3.1 we have provided a new option Compare (Order and Invoice) option in the Purchase menu. For check comparison between Purchase Order & Purchase Invoice, please do the following steps:
Firstly, please enter the Date range of Purchase Order & Purchase Invoice, after that please select your Supplier Name & press on Show button. After that software shows you all Purchase Invoices & all Purchase Orders as per the given Date Range. (Purchase Invoice series start with "PP" & Purchase Order series start with "EA"). After that please enter the
"Compare"
button then the software shows a Comparison between Purchase invoices & Orders at the bottom side window.
The software shows Ordered Qty. & Purchased Qty. both Columns.
When you make your Purchase Invoice with the link of Purchase Order (Earlier explained through F3 Key), then the software shows the comparison in green color.
But many times we make Purchase Order separately & in the time of Purchasing Import Purchase through CSV file that time we not linked Purchase Order with Purchase Qty. But in this option software compare these type of product qty. also & show Purchased Qty. as per Purchase Invoice in Red color.
If you received short or excess in the time of purchase then you can track easily through this option. If you not received or not entered Purchase Invoice as per Ordered Products, then software shows Purchased Qty. "0" & shows in Red color. Screen as per below: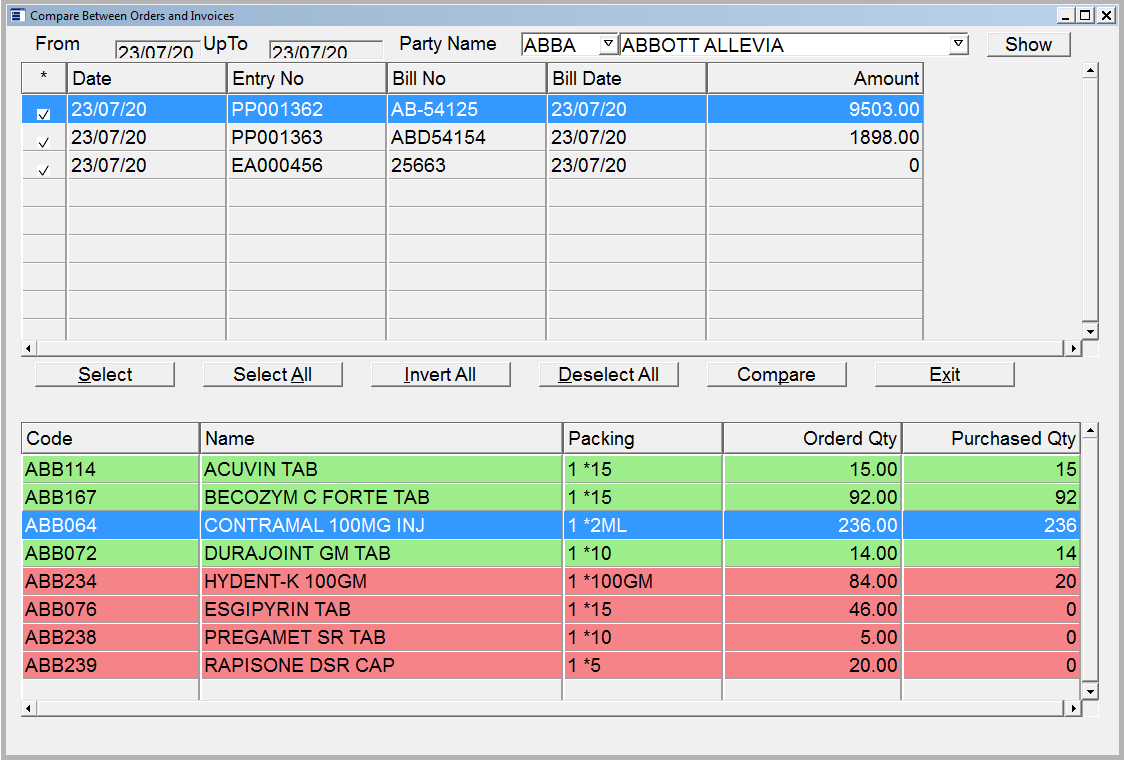 If you require support please read: How to get online support (Guide & Video)

For more details, please make a ticket at swildesk.com.