How to Create Purchase Credit Note in SwilERP
Generally, A Purchase Credit Note is issued by the buyer to a vendor for a Price Difference in products. The buyer can create a credit note if the price difference of the product is Less or More, with the adjustment section User can easily create a purchase credit note of the product.

To Create a Purchase Credit Note do follow these instructions

Open SwilERP Dashboard:

Go to Adjusments> Purchase Credit Note.


SwilERP Dashboard Window
To Create Purchase Credit Note

In Purchase Credit Note option:
Select the Vendor name from the list.

Enter the Reference number according to user.
Fill Up details of the Product
Select Product Name from the List.

Select the Invoice Number of your product.

All further Details will automatically be filed.

Edit the amount of Rate which is your price difference.

Then Save the page with the above-given option of Saving.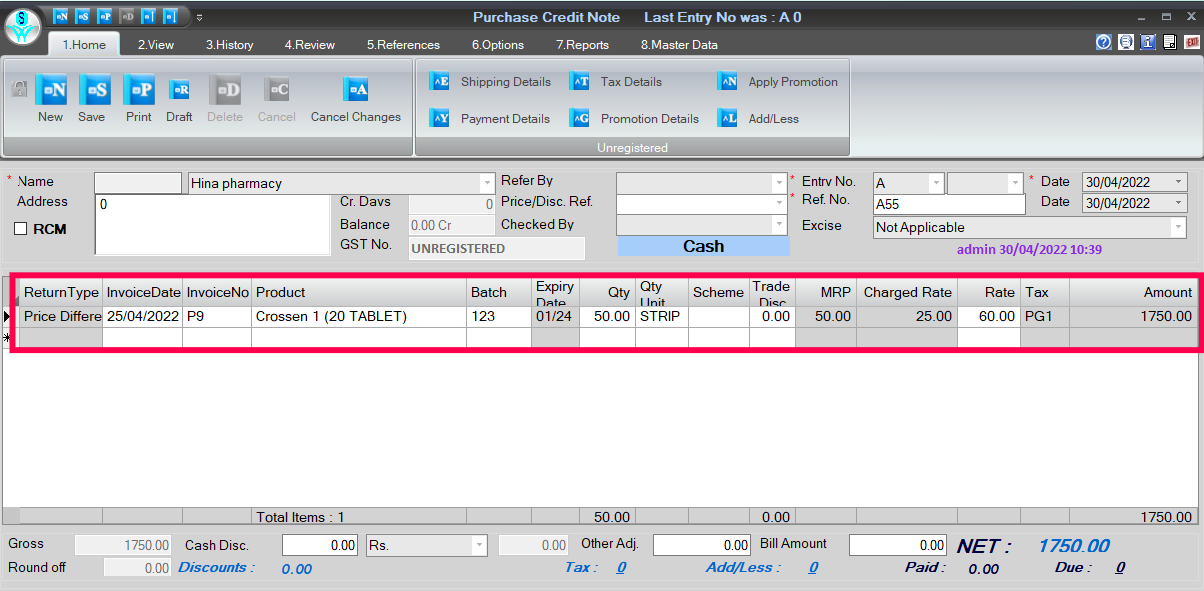 Product Details Window
How to Print the Invoice and View Previous Invoices?

To Print and Preview the invoice:
Go to the View option.

Click on the options of Print and Preview to print your invoice.
To View Previous Invoices:
Go to the Navigation option and tab on Previous or Next.

Or you can browse your details in Month wise/ Entry wise/ Party wise/ Date wise/ Current year/ Last 7 days.


Print And Preview The Invoice Window


Related Articles

How to Create Purchase Debit Note in SwilERP

When users wants to show their purchase transaction in Books of Accounts then they can create a Debit Note instead of a Purchase Return invoice. The reason for creating a Debit note is the Price difference, Saleable, Expired, Damaged, Received short, ...

How to Create Vendor Details in SwilERP

While creating an invoice if required, the user can create a New Vendor during billing of the purchase invoice in purchase form. Open Purchase Invoice Section: Go to New> Enter. After that enter the Name in a dialog box. According to the requirement ...

How to Create Purchase Challan in SwilERP

A Purchase Challan is an invoice issued by the buyer to a seller for purchasing products, users can create a purchase challan easily in SwilERP. After creating an invoice products will automatically be added to stock. This is a non-accounting ...

How to Create Purchase Order in SwilERP

A Purchase Order is an invoice issued by the buyer to a vendor for ordering their product. The purchase order is like a temporary bill, buyers can generate a purchase order as per the requirement of their stock. To create a purchase order invoice do ...

How to Create Purchase Order Book in SwilERP

If the buyer wants to create multiple product purchase orders in one window then they can create it from the purchase order book in Purchase Section. As per convenience of the user and depending on stock, user can generate the purchase order at ...