Create Retail Return Invoice
How to Create Retail Return Invoice in SwilERP

A retail return in SwilERP is an invoice that is issued by the vendor to a customer when the product is returned to the vendor after sale. This can happen for many reasons like, product was
Expired, Damaged, Saleable, Price Difference, Shelf Expired and Received Short.
To create an invoice of Retail Return
From the dashboard do follow these steps:
Go to Sales > Retail Return.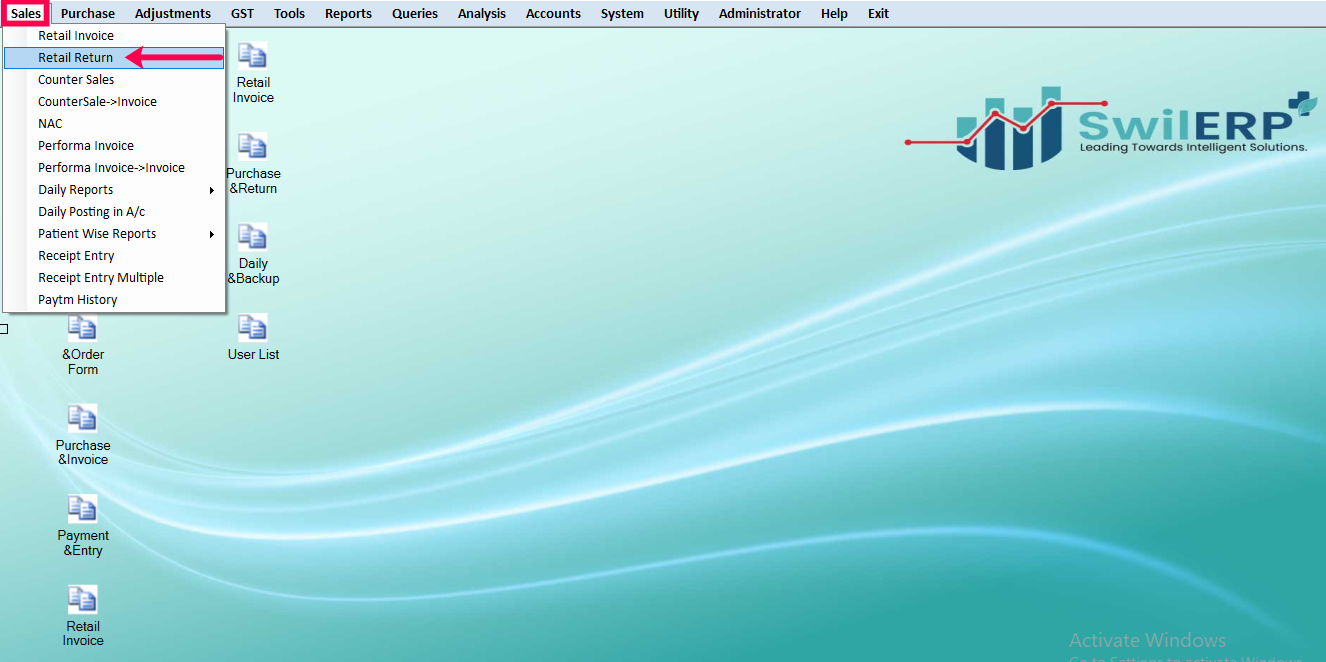 SwilERP Dashboard Window
In next page

you've to update all details according to requirements.



Update customer Name in the column.
Edit details in Refer by, address, reference number if required.

Customer Details Tab
How to Add Products Details

Enter details of the product for which you want to create an invoice.
Select the

Return Type

from the list.

Update the Date when you created a sale invoice.
Then select Invoice Number from the list.
After selecting Invoice Number.

Product Details Window
Save the page from the above given option of saving.



Note:
it is mandatory to fill in all details which have a red star mark.
Related Articles

Purchase Return Invoice

How to Create Purchase Return Invoice in RetailGraph What does mean by Purchase Return? A purchase return occurs when the buyer of merchandise, inventory, fixed assets, or other items sends these goods back to the seller. A purchase return invoice is ...

Create Sales Invoice

How to Create Sales Invoice in SwilERP What is a Sales invoice? A Sales Invoice is a Bill that a Vendor creates for customers against which the customers make the payment. A Sales invoice is an accounting transaction that serves as a record of sales ...

Create Credit Card Type

How to Create Credit Card Type in SwilERP Software Uses of Credit Card in SwilERP A credit card type defines the name of your payment mode. Users can select the credit card method while doing payments and receipt entries via SwilERP software. In ...

Create All Transaction Series

How to Create All Transaction Series in RetailGraph What is transaction series? Transaction series is a succession of volumes with related subjects, billing head, similar format and price, or continuous numbering. So, according to the transaction or ...

Purchase Invoice

How to Create Purchase Invoice in RetailGraph (RG) Software Meaning of Purchase Invoice. Many official documents are generated in business today, including the purchase invoice. It is delivered to a buyer by a company and indicates the goods or ...