How to Export/ Import Master data
How do exporting/importing master data in SwilERP (RetailGraph)?
In RetailGraph, you have the feature to
export
the master data to excel sheets. You can export blank template files for master data creation using the
Export/Import Master Data option from the Options menu.
Do
the required changes and
import
the data back into RetailGraph. You can open these template files in excel, enter your master data and then import these files back into RetailGraph. This feature saves a lot of time and allows us to import already entered data in other software or Excel.
To Export or Import the data first you must have excel in your system, do follow the below-mentioned process.
Go to the Options section from the RetailGraph dashboard.

Then, click on the Export/Import Data.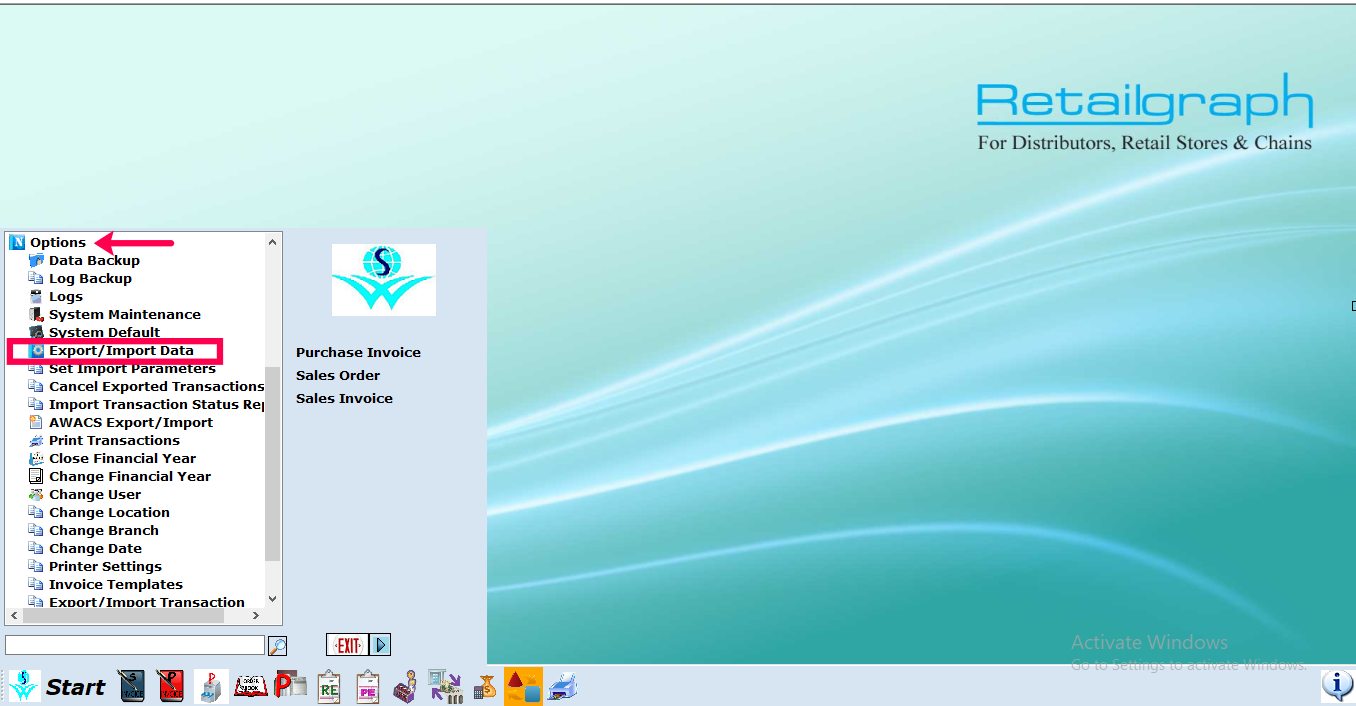 RetailGraph Options Window
After that Export/Import data window will appear, in which you'll see the following options in the ribbon section. From here you can choose a master to export/import data, for example, you choose the product from the inventory ribbon.
Transaction

Inventory

Locations

Accounts

Resources

Others


Ribbon Tab
To export the data in an excel file, select the master from given options.

In the same way, importing the data from the excel sheet choose the master from above options.

Please click on the Product from the Inventory ribbon, and you will get the same screen displaying the list of fields to export/import. Now select the required fields in which you want to export and import the data and click on the Export/ Import tab.
It will automatically open the excel sheet with exported data that you can save on your computer.

To import the data, you can choose a saved file from your computer, and it will automatically update the master data from the selected excel sheet.

Note: Follow the same process for every master i.e. customer, vendor, locations, transactions, users, etc to export and import data.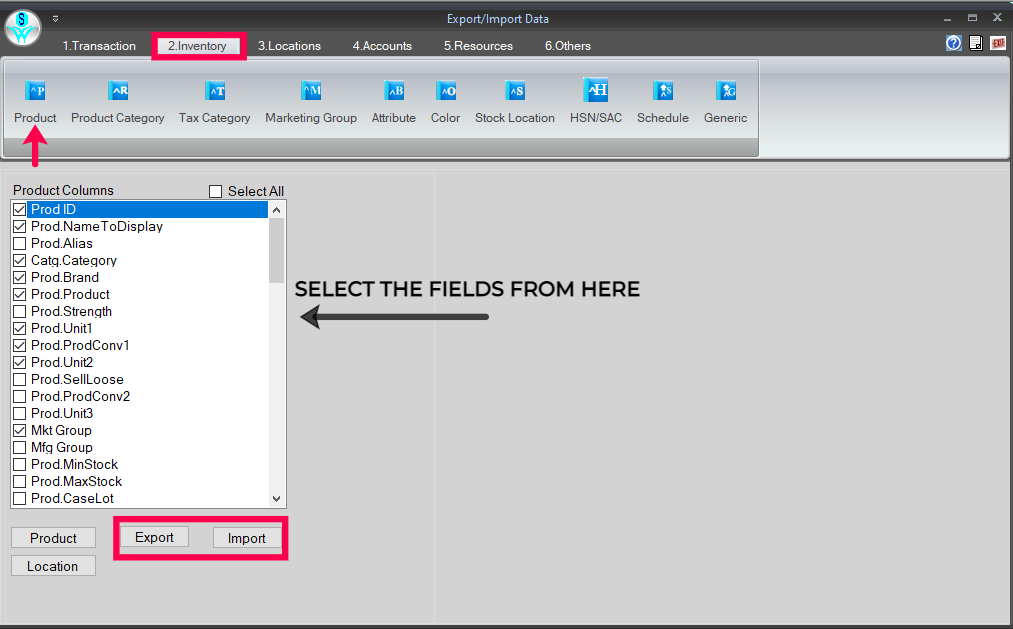 Export/Import Window
Related Articles

Export Tally Data from SwilERP (RetailGraph) & Import it into Tally

How to Export Tally Data from SwilERP (RetailGraph) & Import it into Tally This article explains how to export tally data from SwilERP and import data in Tally. Basic Information In SwilERP, there is a feature to export master & voucher data for the ...

Export or Import Resources Data

How to Export or Import Resources Data in SwilERP Basic Information An employee is someone who gets paid to work for a person or company. Workers don't need to work full-time to be considered employees. Similarly, the person who works for a business ...

Export or Import Bank/ Credit Card Type/ Currency Data

How to Export or Import Bank/ Credit Card Type/ Currency Data in SwilERP Basic information You can add a Bank Account in SwilERP to track your transactions. It helps you to obtain automatic bank feeds. You can reconcile vouchers and bank account data ...

Export/Import Vouchers

How to Export/Import Vouchers in SwilERP (RetailGraph) Software Vouchers are used to process current accounting entries, allocations, and corrections for which other means of entry into the financial system are unavailable. In SwilERP, we have a ...

Export/ Import Vouchers

How to Export/ Import Vouchers in SwilERP A system of accounting that involves the preparation of vouchers for the financial transaction and is supported with documents relevant to the transaction is called a voucher system in accounting. In SwilERP, ...