How to View Retail Product Query in SwilERP
What is a retail product?
A Retail Product means, when a business sells a product or service to an individual consumer for their use. With SwilERP, users can view particular products' sales and purchase details any many other details related to the stock. But you need to select product first and after that products' detail will show according to this.
In the Queries section, users can view their Products ' Stock detail by selecting a product name. With this option, you can view the "Opening Stock, Received Stock, Issued Stock, Current Stock, Stock Location, and Lot Number". And also they can check the details of stock Received (In) or Issued (Out) in the same window.

Users can easily manage their Inventories data of every Product .

These are step-by-step instructions to view the Queries
From the Dashboard in Queries section:

Go to Queries> Retail Product Query.


SwilERP Dashboard Window
In the Retail Product Query window:

Go to the Home Tab.

Enter the Date Range from where you want to view the details.

Select the Product name whose you want to view stock details.

Select the Bar Code of Product if you want to view a particular bar code-wise detail.

After that, select Stock Locations .

Click on the View tab.


Home Window
There is an option to Recalculate the Product balance :

Users have to click on the option that is given on top of the right side.

And, you'll be notified that the balance has been recalculated automatically.


Recalculate balance Tab
To view Received and Issued data in same window:
In retail product query detail, users view the products' purchased and sales entries by double-clicking on the Received and Issued dialog box. You can see all the product details over there, i.e. invoice date, entry no, ref. no, qty, customer/vendor name, rate, and MRP and view the invoice by clicking on a particular invoice.


Received And Issued Window
Then, a pop-up window of product Received or Issued will appear in front of you.

It indicates how much stock is purchased (In) or sold (out).

Note
: Product
Issued window will show as same as product received window show.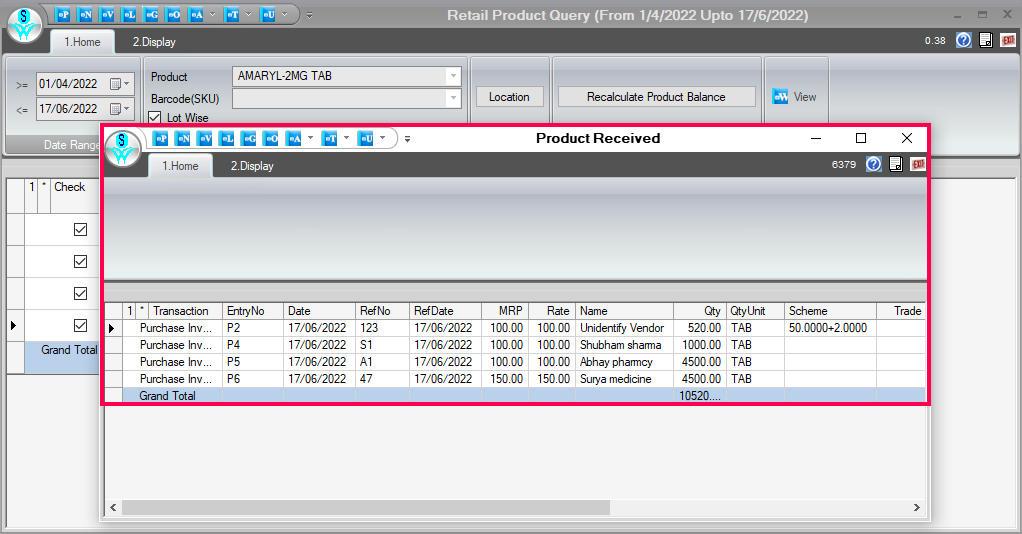 Product Received Window
Print and Preview the Query Details:



Go to the

Display

option.




Click on the

Print

and

Preview

Option to print the Details.




Display Window
To convert your product details into excel format:
Go to the

Display

tab.




Then, click on the

'T'

point

and

select the option in which you want to convert details.




Display Window