An account balance is the amount of money present in a financial repository and the balance is always the net amount after factoring in all debits and credits.
It's important to monitor account balances so you can manage your finances. In this article, we explain how to view inquire balance of your account.
SwilERP has featured Inquire Balance option in which you can view the opening balance of Debit/Credit and the current balance
of Debit/Credit side along with their Account and Account Group name.
Users can easily view their account details with the below-given few steps.
Do follow these instructions to Inquire about Balance
Open SwilERP Dashboard in the Queries section:




Go to the Inquire Balances.


SwilERP Dashboard Window
To view all the Account balance
In the next slide, you'll view the Account Balance window:
Go to the Home Tab.
Select the Location in which you want to view the detail.

Click on the View option.

There you'll see all Account balances.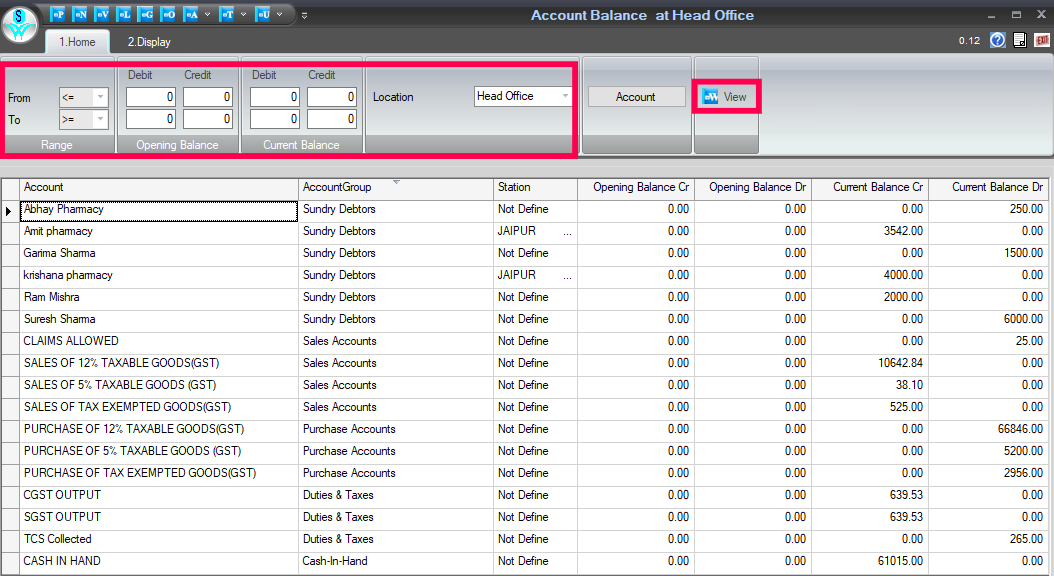 Home Tab
To View Formula wise Account Balance
There is an option to view formula wise details:
Select the Range in more than, less than, and is equal ( =, =>, =<) to view details.
Accordingly, enter the opening balance or current balance amount in a dialog box.

Filter Account that you only want to view in detail.

Click on the View tab.