Recalculate of Due Quantity Balance
How to Recalculate of Due Quantity Balance in Retailgraph
What is recalculate?
To recalculate is to count or measure something again or use new details/ information. If you need to recalculate the purchase and sales due balances, you can do it in the system maintenance window.
Recalculate
due quantity of
Purchase order:
Sometimes you may need to recalculate the due quantity balances of the Purchase order and the same in challan/return and Sales order/ challan/return.

In the Retailgraph software, there is an opportunity in the 'Options' section to recalculate the due qty balance of purchase and Sales transactions. In this article, we will discuss how to recalculate the due quantity balance in the purchase order transactions.
Start with Login in the Retailgraph dashboard to initiate the process:
Go to the Options tab

Select the System Maintenance.
From this process, you can recalculate the due qty balances of the below-given transactions:-
Purchase Order
Purchase Challan
Purchase Return
Sales Order
Sales Challan
Sales Return

Retailgraph Dashboard Window
Let's see the easy steps on how to Recalculate Due Qty Balances:



Go to the

Recalculate

option; all related features will be shown.



Select the Purchase Order

tab.



Select the Date Range

'From to TO', and the balance qty will be recalculated accordingly.



Click on the Recalculate

option.



Now you will get a successful message click on the 'OK'

button.



Reference Window: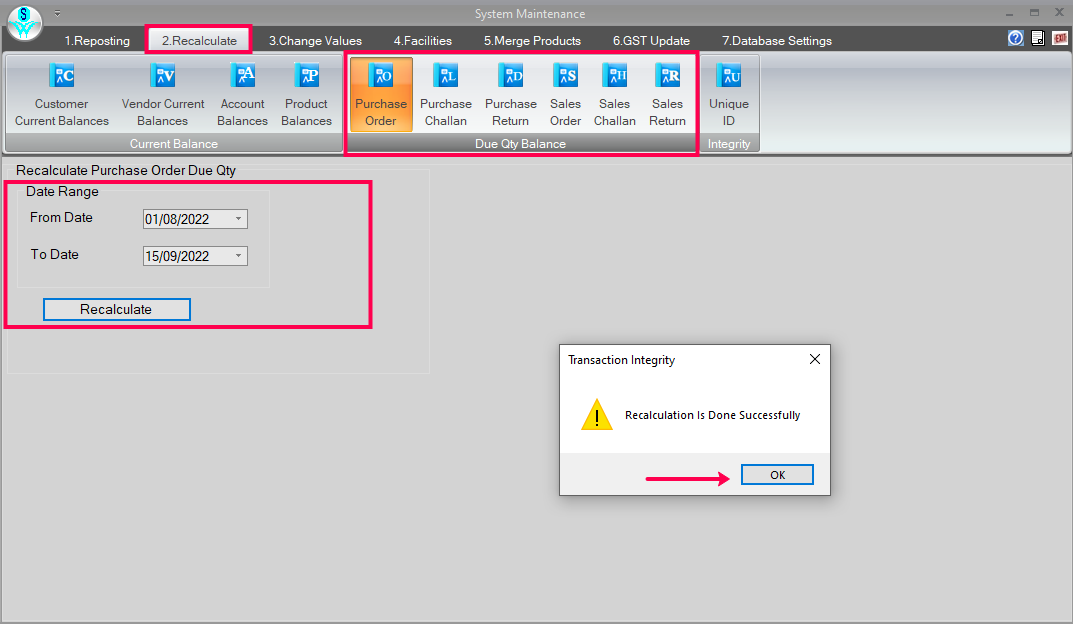 Recalculate Window
Note:- Follow the above process to Recalculate the Due Qty Balances of other Sales and Purchase options.
Related Articles

Recalculate Current Balance

How to Recalculate Current Balance in RetailGraph Meaning of Recalculate Recalculate the definition to calculate again, especially to find an error or confirm a previous computation. The recalculate process for using to count or measure ...

Analysis of Accounts Monthly Due Balances

How to view Monthly Due Balances in SwilERP Software What is Monthly Due Balance? A monthly due balance is a report that provides you with the data of due balances and their monthly amount. This report displays the account-wise details of all the ...

Recalculate Balances

How to Recalculate Balances in SwilERP Software Recalculate Current Balances. This window means reconciling all your transaction data in the Facilities section. If the user wants to Recalculate the Current Balances and Due Quantity Balance. They can ...

Balance Sheet

How to View Balance Sheet in RetailGraph Software What is Balance Sheet? The balance sheet is a financial statement that reports a company's assets and liabilities at a specific time . Balance sheets provide the basis for computing rates of return ...

Trial Balance

How to View Trial Balance in RetailGraph Software The trial balance is a financial report that displays the closing balances of all accounts in the general ledger at a specific point in time. It serves as the initial step in closing the books at the ...