Do You Know these Advanced Features of Unisolve/Cross?

Please follow this link to know about
Some important features you need to know
1. Email, SMS:
You can send email or SMS through software like as Invoice, Purchase Order, Sales & Stock Statement to Supplier Automatic, Account Statement to Party, Product Wise Sales Report.
2.
Mobile Order, I-Order:
Now a day's there is mostly client using these features for growth & Simplicity their business. In this feature Retailer & Wholesaler, the salesperson will give the director order to their wholesaler after that retailer will download their invoice directly into the purchase. For more detail click on this link
https://support.swildesk.com/portal/kb/articles/how-to-place-an-order-to-your-supplier-through-i-order-mobile-app

https://support.swildesk.com/portal/kb/articles/unisolve-mobile-order-app

3. Import CSV Files (Sales, Purchase & Credit Debit Notes):
This option is used to save the time of your making bill with accuracy. When you purchase from your supplier and told to him to give the CSV file of your bill and those CSV files will import in our software and you can also give to your retailer when make sales bill like as this images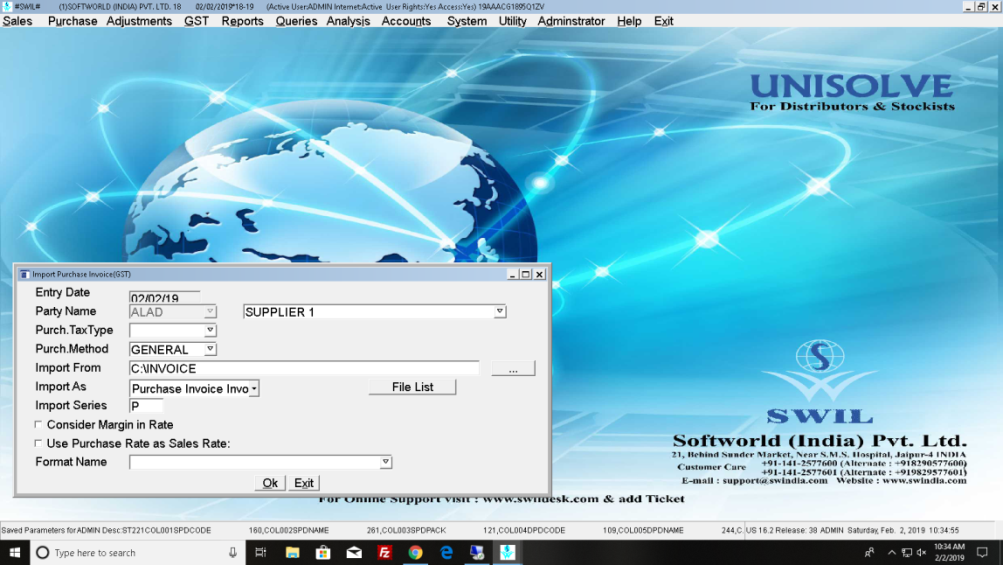 4. Help Menu:
This option is very useful for Owner & Operator in this menu we have given many options like as Support Centre (If you have some problem in the software that you can raise a ticket after that our Executive auto call), Download Last Patch(In this feature it's automatic download & install a new version of the software), Unisolve
Cross
Video link(in this option you can see some problem or GST Solution related video),
5.
SwilDesk or Video: Now there is no need to call for support you can just add the ticket at
www.swildesk.com
after that our executive will automatically call you and you can see our article or video that's why you can own solve your problem.
6. Auto E-Way Bill:
E-Way Bill is the short form of Electronic Way Bill. When e-Way Bill is generated, a unique e-Way Bill Number (EBN) is made available to the supplier, recipient, and transporter. The e-Way Bill replaces the Way Bill, which was a physical document and existed during the GST regime for the movement of goods. Now you can create an Auto E-Way bill upload from our software if you have done registration of a CMC Account.
For more details, please make a ticket at swildesk.com.

If you require support please read: How to get online support (Guide & Video)

Thanks
SWIL Team