Create Patient/Customer Master
How to Create Patient/Customer Master & View List in SwilERP

In SwilERP, there is an option for the patient list, in which you can create and view patient lists, particularly name-wise.
The patient is also called a customer in the pharmacy sector.
A Patients List is an option to view every patient detail on one page. With this option, users can create a new patient/customer and also view and edit the already created patient.
These are the step-by-step instructions to view the patient list
Open the SwilERP dashboard in System section:

Go to Master Data> Doctor/ Patients List>

Patient

List.


SwilERP Dashboard Window
In the Patient List window:


There you will view every patient's details.


If you want to create a new patient then click on the New Option.


To edit an already created patient click on the Edit option.


Form view option are also there to view the patient details.


Print, Delete and Refresh details are also available.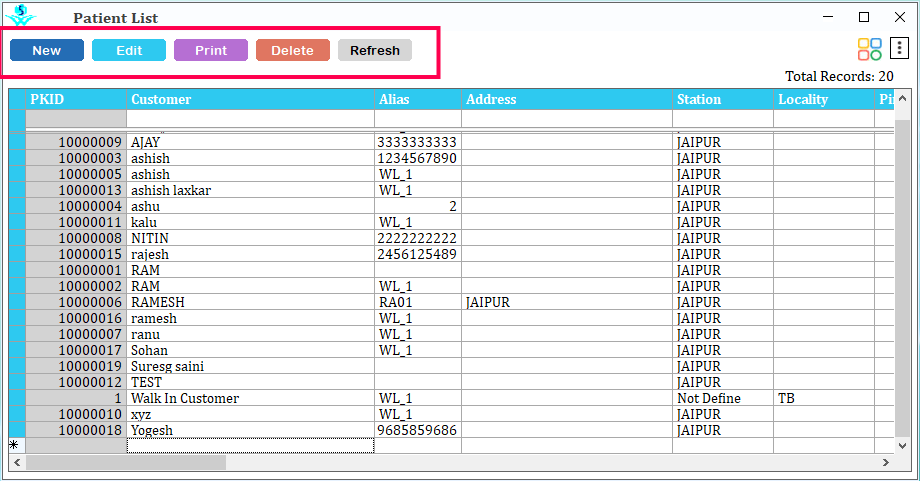 Patient List Window
To create a new Patient/Customer:


Go to the Customer details tab.
Enter the Name of the customer in a dialog box.

If you want to give any short name then, enter the name in Alias column.

Fill in the details in the Address, Station, District, Pincode, and State columns of the customer.

Enter details in the Phone and Mobile number column.

Then, As per required fill in the details in other columns.
Note: Only customer name is mandatory.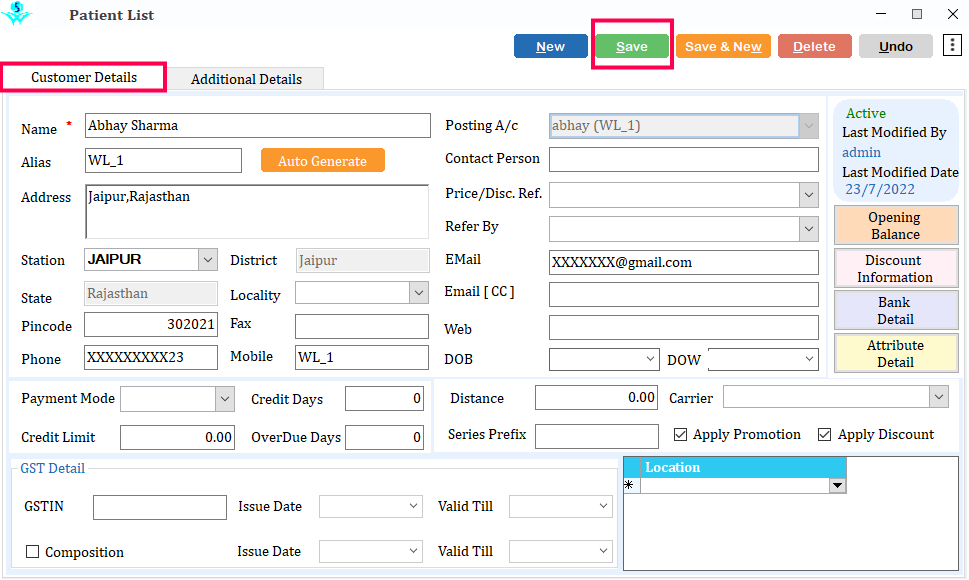 Customer Details Tab
Go to the Additional Details Tab.

Enter the Opening Points of the customer which you want to give.

Enter the Expiry date if you want to add.

Add TIN number, CST No, and License details if you have any.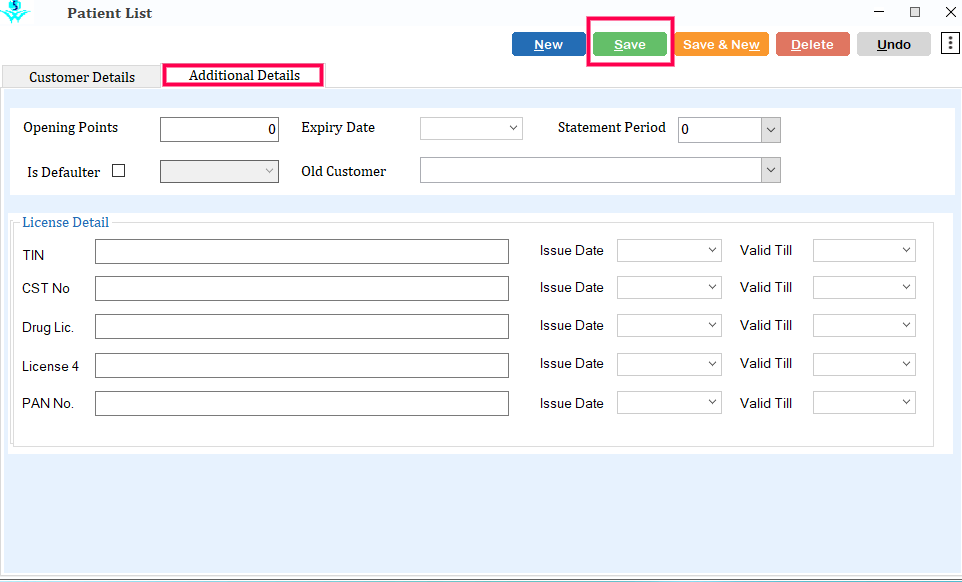 Related Articles

Create Customer Master

How to Create Customer in SwilERP (RetailGraph) Software Creating a customer in SwilERP software refers to adding a new customer to the system. The customer record typically includes details such as the customer's name, contact information, address, ...

View and Create Doctor List from Master Data

How to View Doctor List in SwilERP What is Doctor List? During generating a transaction invoice there is an option to select refer-by doctor name. This option lets you view the doctor list and create a new doctor. In SwilERP, there is an option to ...

Create Product Master

How to Create Product Master in SwilERP Software What is Product Master? In SwilERP software, the first step in setup is adding products to the product master. The product master allows users to add new products and view them by name or code wise. ...

Create Ledger Account in Master

Process of Ledger Creation, Modification, and Deletion in SwilERP (RetailGraph) Overview of Ledger Account? A ledger is a book of accounts in which account transactions are recorded. The basic purpose of the creation of Ledgers in SwilERP is to ...

Create Supplier/ Vendor Master

How to Create Supplier/Vendor in SwilERP What is Vendor? Vendors play an important role in the supply chain process for businesses that sell goods. a vendor is an individual or company that supplies the products to businesses or consumers. In ...