What is the meaning of retail?
The Retail Stock Query report provides complete information about a particular stock item.

Retail refers to
the activity of selling products directly to customers or end-users
.
If you talk about a retail business, you mean
a business that sells goods directly to the public.
A retail stock query provides you with all the related data of stock.
In SwilERP there is an option to view
related details of Retail Stock Query. Users can view Products' Lot Number wise details along with their MRP, Batch Number, Expiry Date, Current Stock, Stock Location, etc.
If required, then users can also view more information by using Grid Layout Option.
These are the step-by-step instructions to view Retail Stock Query
Go to the Queries section in SwilERP dashboard:




Click on the Retail Stock Query .


To view the Stock of all Products
In the next slide Retail Stock Query will Appear:
Go to the Home section.

Tick mark on Show Nil stock Lots to also view nil stock.
If you want to view every product detail then, click on the View tab.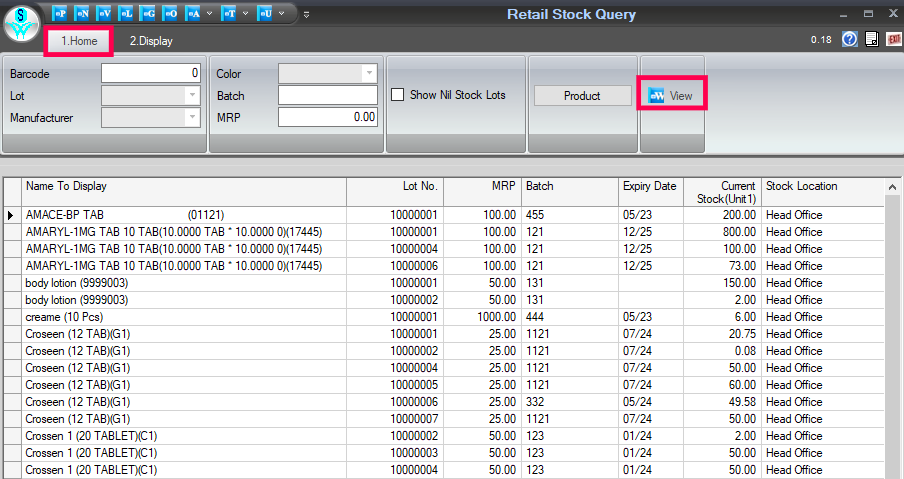 To view Lot Number wise Stock Details
Go to the Retail Stock Query window:
Select the Lot number for which you want to view stock details.

Select Vendor name to view vendor-wise detail.

To view MRP wise detail enter the Amount in a dialog box.

Select and Filter the Products from the given option .

Click on the View Tab .

(
Note: If you want to view a particularly detail-wise query, then select it from the given columns)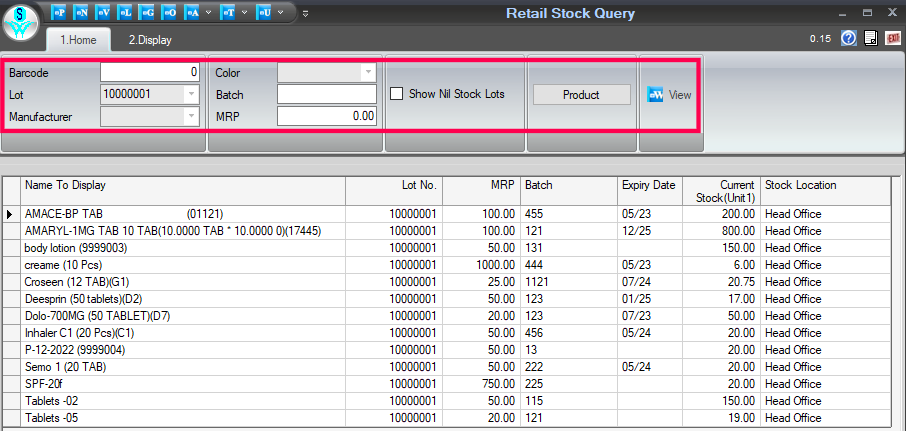 Lot Wise Detail Window
Print and Preview your details from the given options:




Go to the

Display

option.




Click on the

Print

and

Preview

option to print your query details.




Convert your details into different Formats:




Go to the

Display

option.



Click on the

'T'

point and there you'll see the options of different formats.



Select the

Option

in which you want to convert your details.





Note: You can view the details at your convenience by selecting the options in which you want details.