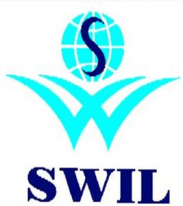 WhatsAPP Integration/ Scheduling in RetailGraph
RetailGraph new version has a new update. Now you can send your "Sales Invoice" bills to the customer through whatsAPP application via RetailGraph.
First we need to start with schedule. For this please follow the steps below.
Go to START button- Tools- Schedule SMS /Email. A window will open as shown in the image below.
We need to select Schedule for- Transaction.
In Schedule Option select - Whatsapp
In Transaction/Reports- Sales invoice.
Send as attachment we need to tic-mark and that will by default select PDF format.
So this is the process for scheduling.
Now to implement this option in your software you need to follow the steps below--
First of all,

You

need to update your

RetailGraph

software version to the latest version.
To upgrade your Software version please make ticket on swildesk.com or talk to your local service provider.
After this process you need to login into the

Retail

Graph

software by inserting your

Username

and

Password

into the login screen.
Now once you're login into the software go to

START Button- Tools- Send

WhatsAPP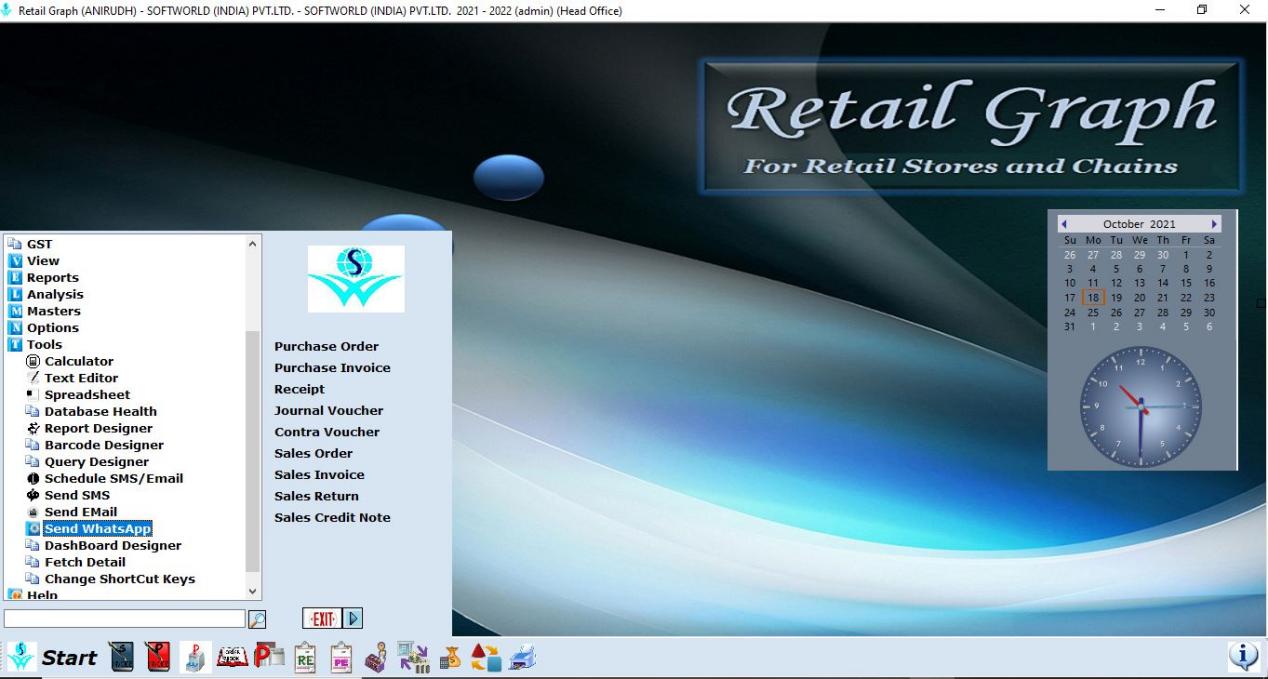 Now once you click on

"Send

Whatsapp

"

A window will open as shown in the image. You need to click on

WhatsAPP

setting button to insert the configuration.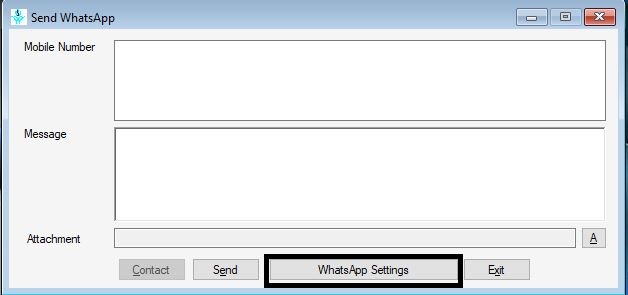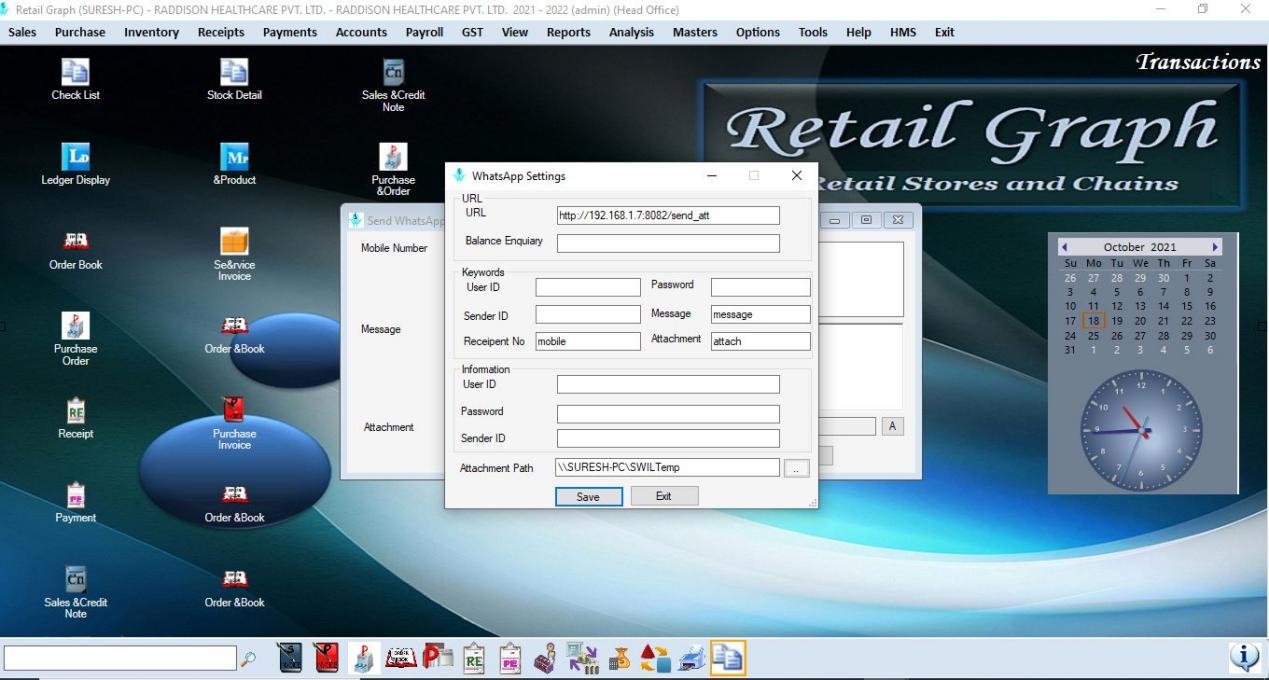 Now you need to buy the Whastapp API for this option to run. You can purchase this API from any third party or request SWIL company to suggest any vendor remember this is totally your choice.
Now once you purchase the Whatsapp API you need to insert the API into the URL column as shown in the image.
[Note- Rest information like- user name/ Password/ Sender ID/ receipt number etc are not mandatory options. Different -Different vendors provide Different -Different fields to fill along with API. So depending what your vendor have provided you fields to fill you need to fill up according to that only.]
Attachment path- In this option you need to set the path were you want to save your invoices PDF attachment's. From that path only software will pick up your invoice copy to send the customer.
Now click on the SAVE button once you are done.
Now you have to make a sales invoice of the

customer and save the bill. Once you click on save button a window will open as shown in the image below.
[Note- If you have made customer master, customer mobile number will be fetched automatically. And in case if you have not saved customer details in the masters you can manually type customer number and send the invoice on that Whatsapp number. Remember invoice will get delivered on only single number.]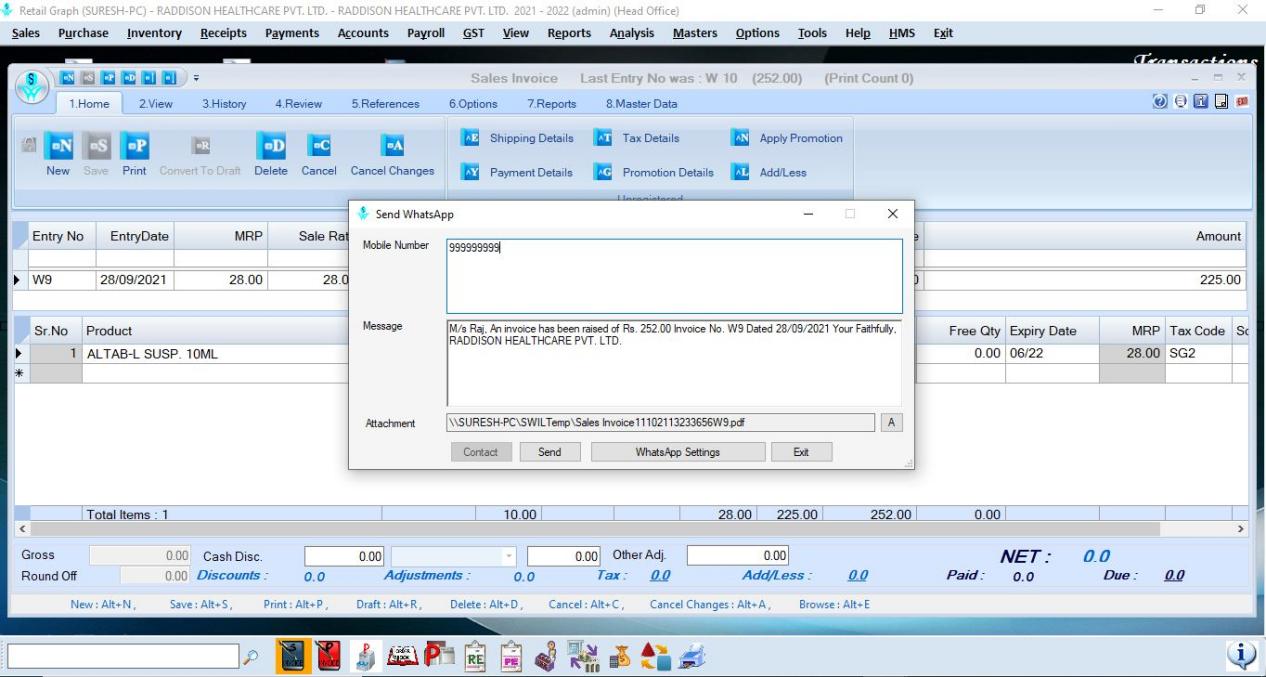 ***